This article is intended for members in the United Kingdom. If you're looking for instructions for CoinJar Australia, visit this article.
Signing in using an alternative authenticator
If you have access to at least one of your requested Enhanced Security authenticators, you can sign in to your CoinJar.
Begin the sign in process as normal, however when prompted for Enhanced Security using the authenticator you don't have access to, select 'More options'.
Choose any of the additional Enhanced Security authenticators you've added to your CoinJar. You'll then be able to sign in to your CoinJar Settings and remove any inactive authenticators.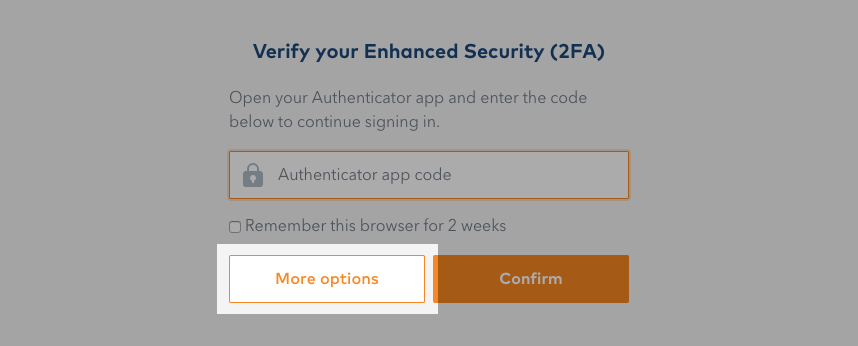 Can't complete Enhanced Security?
If any of the below circumstances apply to you, our Security Team will need to manually remove Enhanced Security to allow you to sign in again:
You've changed mobile numbers since setting up Enhanced Security,
You wiped your phone and your authenticator app was not backed up,
You are unable to receive SMS messages in your current area (and you don't have an alternate authenticator).
Please submit a new Enhanced Security Removal Request to begin this process.