POLi instant transfer requirements
In order for your POLi transfer to be instantly added to your Cash Account, the following must be met:
Your previous POLi transfer has completed bank processing and arrived at CoinJar. If your previous POLi transfer was recently approved instantly, it may still be undergoing bank processing. Please read below for further information. 
You are transferring from a bank that is eligible for instant approval - a list of ineligible banks are listed in the 'Quick Deposit' section of your CoinJar.
Your POLi transfer is from a bank account under your own name. POLi requirements. 
Your remaining daily limit for POLi transfers is larger than the amount you're sending.
Your POLi transfer is equal to $2,500 or less. Even with increased daily limits, we can only provide instant transfers smaller or equal to $2,500. 
When do POLi transfers actually reach CoinJar?
POLi transfers, like most payments between Australian bank accounts, typically take 1-3 business days to arrive. Even though the funds come out of your bank account right away, the time it takes to actually reach CoinJar is usually the following business day. As soon as we receive POLi transfers, our systems make those funds available to our customers as soon as possible - provided they meet our POLi requirements. It's in our best interest to get those funds available to you as soon as possible, and our systems are set up to do just that. 
So how are some POLi transfer completed instantly?
CoinJar's systems have been set up to allow certain eligible POLi transfers to be accessed ahead of schedule, which we refer to as an "instant transfer". Effectively, we're providing you early access to an amount equal to your POLi payment - before your bank transfer actually reaches us.
Of course, due to the threat of potentially fraudulent payments, providing this service comes with its own set of risks. Because of this, we have to limit instant transfers to one at a time. If your previous POLi transfer still hasn't reached our bank accounts when you make your next transfer, the new payment will only be approved once it actually reaches CoinJar's bank account - usually the following business day. 
If a POLi transfer is not eligible for instant approval, we must wait for the funds to reach us before approving. Unfortunately, we have no way of controlling the time it takes for bank processing to complete. 
How do I know if my POLi transfer will be instant? 
We do our best to help with this. The 'Quick Deposit' section of your CoinJar will always check to see if any of your previous POLi payments are still being processed, and will warn you if you next POLi transfer won't be approved instantly. 
When making a new POLi transfer, please ensure you read the Quick Deposit section thoroughly as it also contains important information regarding which banks are not supported for POLi instant transfers.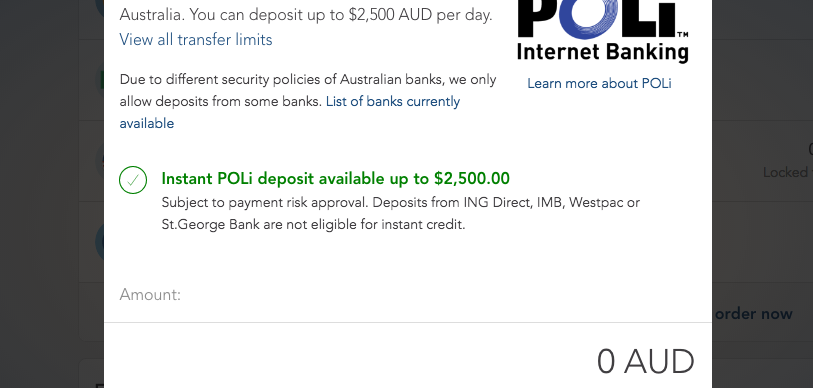 For more details on POLi, please refer to our dedicated Knowledge Base article on bank transfers:
Depositing funds from your bank account to CoinJar : POLi transfers
Updated: 17 Aug 2017 (AS)
Reviewed: 17 Aug 2017 (AS)