Are you a United Kingdom member?
This article is for Australian members. If you're looking for instructions for CoinJar UK, visit this article.
What is CoinJar Rewards?
CoinJar Rewards is a rewards system built into CoinJar that allows you to accrue points as you use your CoinJar every day. CoinJar Rewards points can then be used to cover currency exchange fees, or redeemed in ways described within this article.
Once activated from the Accounts section within your CoinJar, CoinJar Rewards points will automatically be added to your CoinJar Rewards account as you earn them.
Activating CoinJar Rewards
In order to be eligible for CoinJar Rewards, you'll first need to be fully verified.
Once signed in to your CoinJar, navigate to your Accounts page.
Underneath your existing Accounts, you'll see 'CoinJar Rewards'. Select 'Activate account...' and a new dialogue box will be displayed.
Once you've read the information regarding CoinJar Rewards, select 'Activate' to begin. From here, you can see the CoinJar Rewards points you've earned by navigating to your Accounts page and viewing the new CoinJar Rewards account.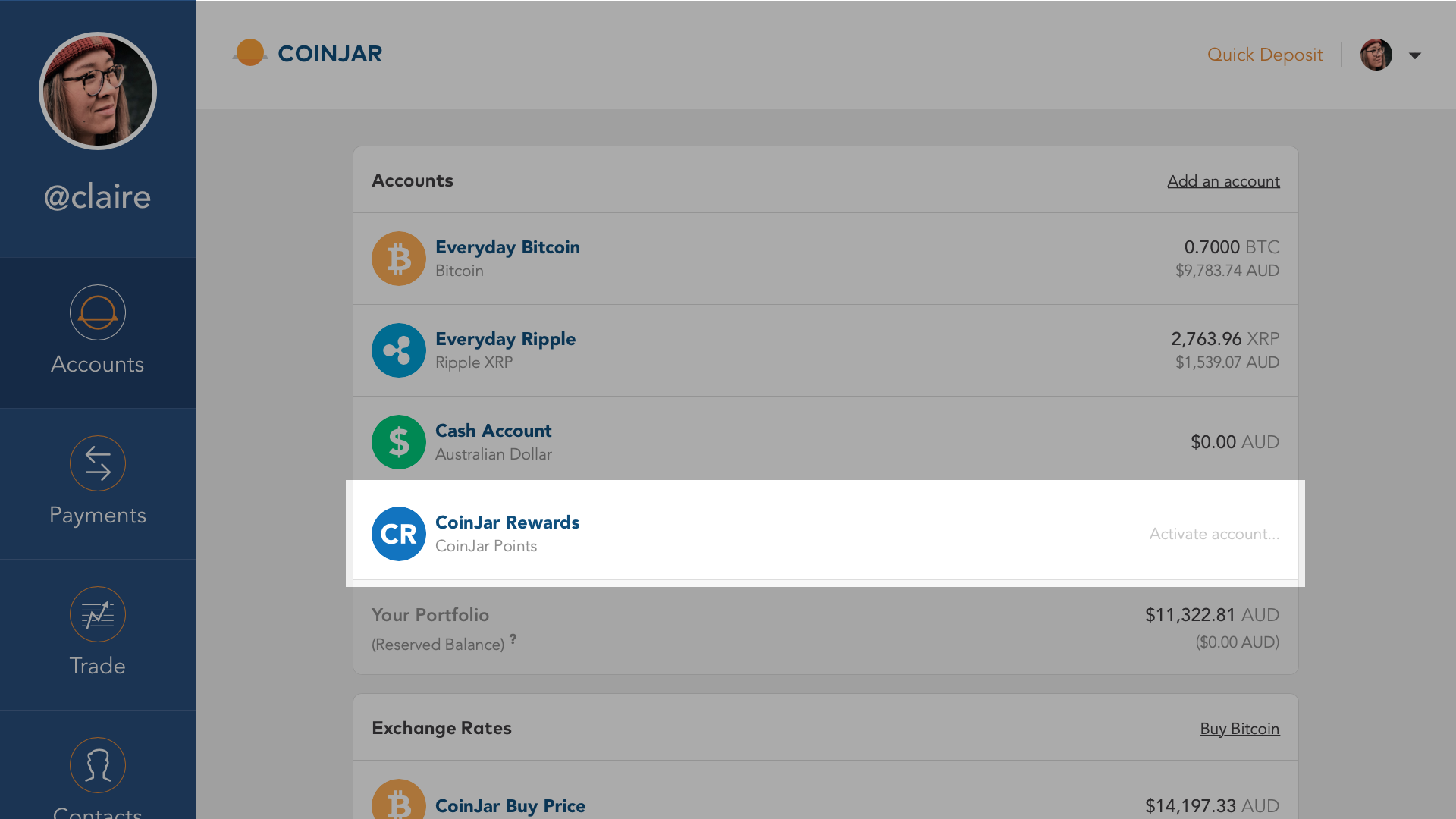 Earning CoinJar Rewards points
| | |
| --- | --- |
| Activity | CoinJar Rewards Points earned |
| Completing any currency exchange that requires fees ✝ | 500 points per Bitcoin◇ traded |
| CoinJar Swipe purchases | 5 points for each Swipe card transaction |
| Payment from CoinJar to an external BPAY Biller * | 1 CoinJar Point for each $5 sent to an external BPAY Biller |
| Purchase on the CoinJar Store | 5 points for each CoinJar Store purchase |
| Referring new CoinJar members | 500 points for each referred member who completes ID verification |
When earning CoinJar Rewards points during currency conversion, the number of points you receive are rounded to the closest full point. CoinJar Rewards points are not divisible.
✝ Does not include CoinJar Exchange orders.
◇ The number ofCoinJar Rewards points earned is always calculated against the current value of Bitcoin.
* Only transfers from your Everyday Bitcoin account to a BPAY Biller will earn CoinJar Rewards points.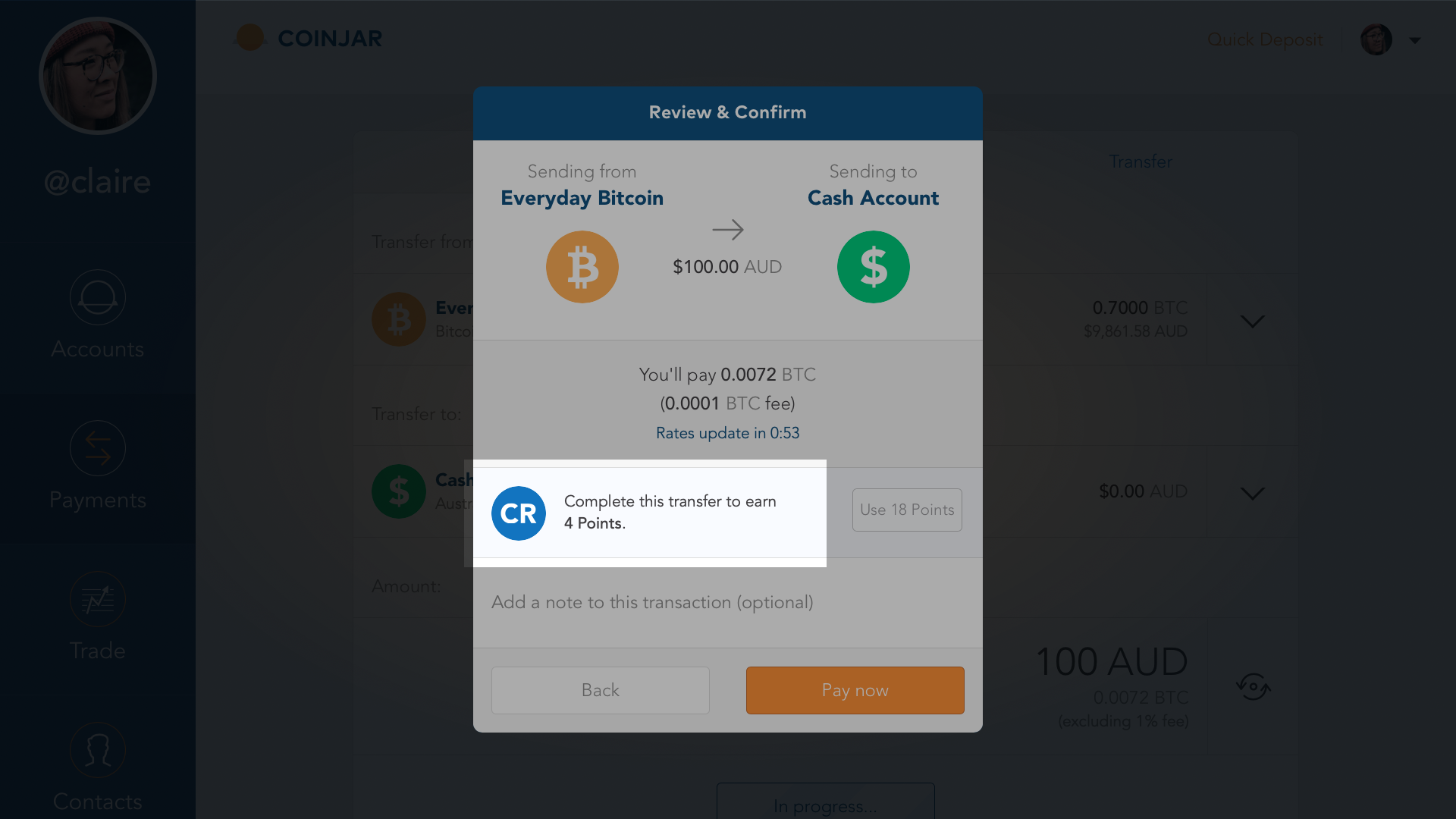 Redeeming CoinJar Rewards points
There are a number of ways you can redeem your CoinJar Rewards points, including fee-free transfers, Swipe cards and other items available on the CoinJar Rewards Store.
CoinJar Rewards Store purchases
CoinJar Rewards points can also be used to redeem items from the CoinJar Rewards Store.
Physical items, such as t-shirts and socks, will provide you with a coupon code after redeeming your CoinJar Rewards points. These items are posted to your address, and you will need to use the coupon code on the CoinJar Store to cover the cost of the redeemed item and complete your order.
To use your coupon code on the CoinJar Store:
Sign in to the CoinJar Rewards Store and view your orders - My Orders. You'll be able to view the codes for your purchase. Copy the required coupon code.
Head over to the CoinJar Store to complete your order.
Select the appropriate item and add it to your cart.
Apply the coupon code when editing your order.
Submit the order.
CoinJar Swipe
If you don't yet have a CoinJar Swipe, you can use CoinJar Rewards points to complete your order. A Swipe card can be redeemed for 2,000 points.
Once you've begun ordering your Swipe card, you'll be required to transfer at least $29 to your Swipe account to place your order. This can be covered by CoinJar Rewards points instead.
From your Accounts section, you will be shown "

Only one step left until your CoinJar Swipe order is complete!

Complete order now". Selecting this link will take you to your Transfers page.
You'll be given the option to 'Get card for free', which will allow you to use 2,000 CoinJar Rewards points to redeem a Swipe card instead of paying the $29. At this point in time, a partial payment isn't possible - you will need to be able to cover the full amount using points.
Fee-free transfers
Use your accumulated CoinJar Rewards points to perform a digital currency exchange without the typical conversion fee. When making a new transfer, provided you have enough CoinJar Points available, you'll be provided with the option to spend some points to cover the cost of your exchange fee. The value of CoinJar Rewards points is calculated against the price of Bitcoin - 2,500 points are needed to cover the conversion cost of one Bitcoin worth of value. This 2,500:1 ratio is automatically calculated for smaller transfers.