This article is intended for members in the United Kingdom. If you're looking for instructions for CoinJar Australia, visit this article.
Sign in using an alternative authenticator
If you have more than one Enhanced Security (2FA) authenticator linked to your CoinJar, you can sign in using your second device.
Begin signing in as usual.
When asked for your 2FA code using the authenticator you no longer have access to, select 'More options'.
Choose your second authenticator and complete 2FA.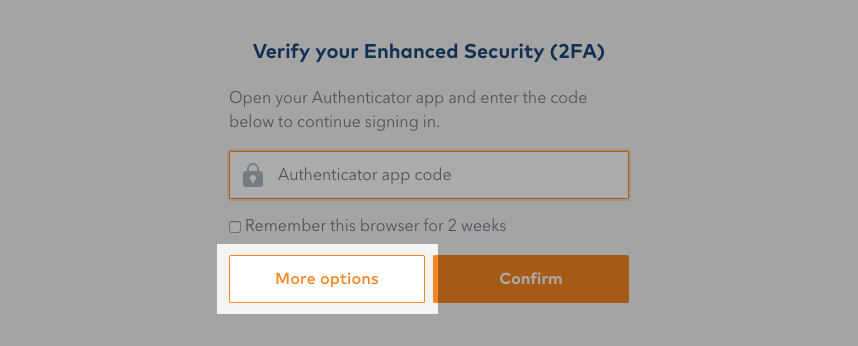 How to remove an authenticator
To remove an inactive or old authenticator, you'll need to:
Head over to your CoinJar's Settings.
Scroll to 'Security' and then 'Enhanced Security (2FA)'.
Select your inactive authenticator and then 'Remove device'.
You'll then need to complete 2FA one more time

to finish the removal.
Remember to set up another authenticator as soon as possible to keep your CoinJar safe.
Can't complete 2FA?
If you're unable to complete 2FA, then we can help you to sign in again. Please submit a new Support Request to begin the process of removing enhanced security from your account.