This article is intended for Australian members. If you're looking for instructions for CoinJar UK, visit this article.
With funds available in your CoinJar, you can send a new payment to any CoinJar member, contact or cryptocurrency address by making a new payment.
Authorising payments
If you've enabled passcode or biometrics options in the CoinJar app, you'll be required to authorise any payments from your CoinJar using the security method you've enabled. This feature is helpful to prevent unauthorised transactions from being sent from your CoinJar.
Sending cryptocurrencies
Open the CoinJar app
On the Home tab, tap on the three dots next to the 'deposit' button on the Quick Actions bar.
Select "send a crypto payment"
Select the account you'd like to send from
Select the destination type, or tap 'Wallet address' to enter a cryptocurrency address
Enter the amount you'd like to send
Review the details are correct, then tap on confirm. You can also add a short note to the transaction for your reference.
Before finalising your payment, be sure to check that you have entered the correct address and any supplementary information such as the destination tag or Memo ID, if applicable.
After the transaction has been submitted, you'll receive a payment receipt which can be shared with the recipient if needed.
When sending funds to a Contact from a cryptocurrency account, for example your Everyday Bitcoin account, the Contact will only appear as a possible destination if an address matching the sending currency is saved to that Contact.
Receiving cryptocurrencies
Before receiving cryptocurrencies into your CoinJar, you should review CoinJar's address requirements.
Open the CoinJar app
On the Home tab, select the cryptocurrency account you'd like to receive funds into
In the Quick Actions bar, tap 'Show'
Review any warnings about receiving funds, and select 'Show address'
Under Wallet Address, tap 'Copy', or share the QR code to receive payments at this address.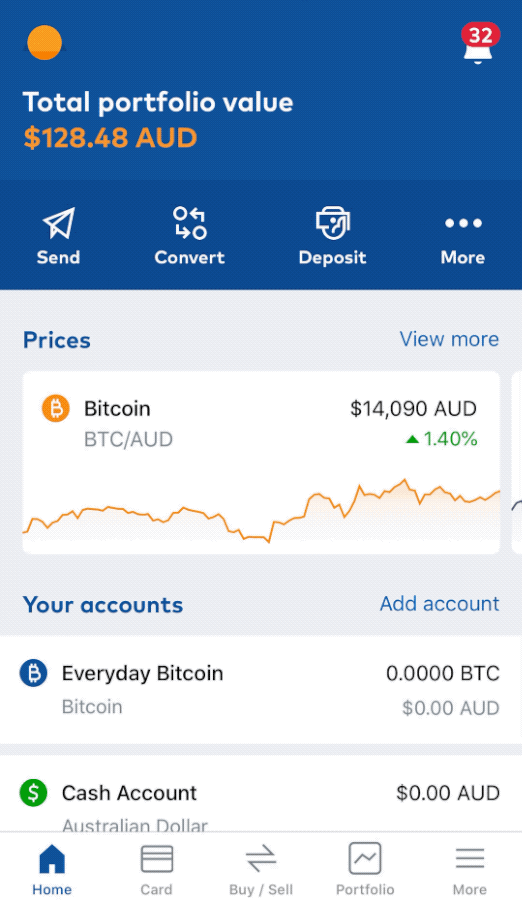 Internal (off-chain) payments
Sending cryptocurrency payments to any external address will send that amount via that currency's blockchain. However if your recipient is also a CoinJar member, you can send the amount directly to their CoinJar, avoiding the blockchain altogether. This is called an internal, or off-chain payment.
Bitcoin payments
Whether you're sending to a CoinJar-generated receiving address, or a CoinJar username, the payment will automatically be processed internally. No blockchain processing fee or delay will occur. Outgoing Bitcoin transfers will fail to send if the amount being sent is below our system's minimum requirement of 0.0001 BTC.